These irresistible shrimp pastry hors d'ouvres are super easy, taste amazing and look super impressive. The phyllo dough creates an incredibly thin flaky encasement and the warm cream cheese n' onion shrimp filling just gushes with flavor in every bite. I promise you this tried and true recipe will earn you rave reviews, as long as you serve them fresh from the oven. The filling can also be used as dip for crackers or breads.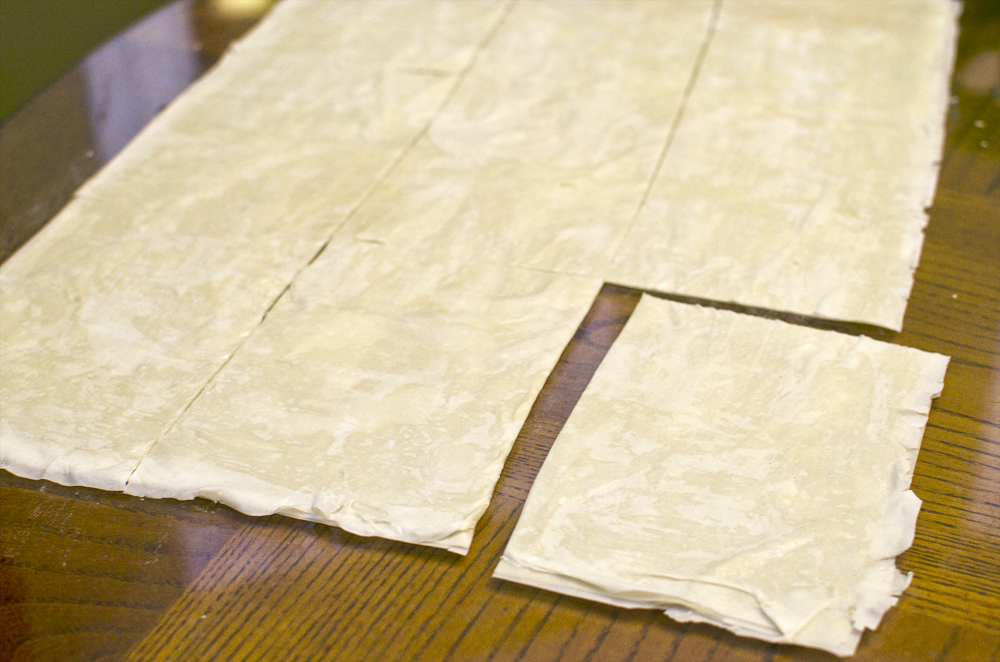 Many thanks to a friend who I have cooking parties with (and by parties I mean the two of us get together and cook after many days of perusing pinterest). This recipe would not have come to life if it weren't for one of our more legit cooking parties.
Easy Shrimp Pastry Pouches
YIELDS: 18 pouches
TIME: 35 minutes (20 minutes active + 15 minutes bake time)
CREDITS: Frances and Veronica
INGREDIENTS
---
Filling 
130 g Cooked Shrimp, loosely chopped
1 cup Cream Cheese
1/2 tspn. Dried Parsley
1/2 cup white/yellow Onion, finely diced
1/2 tspn. salt, or to taste
Pepper, to taste
1/4 cup Cheddar cheese, grated (optional)
1 handful of loosely chopped spinach (optional)
Pastry Pouch
8 sheets phyllo dough
1/4 cup melted butter
INSTRUCTIONS
---
Filling: Shrimp and Cream Cheese (Can be made the day before)
1. To make the pastry filling, begin with sautéing the onions on medium-low heat until transparent. Meanwhile, start mixing together the shrimp, cream cheese, parsley, salt and cheese in a bowl, adding the onions when they are done.
Pastry Pouch & Assembly
1. Pre-heat the oven to 375 F.
2. Position a sheet of phyllo dough on a clean work area (make sure to cover unused sheets with a damp cloth/paper towel) and brush on an even layer of melted butter. Place an additional sheet of phyllo dough ontop and spread another layer of melted butter; continue to alternate until you have four layers. Divide this sheet into 9 even pieces by cutting two horizontal and vertical lines with a knife (each piece will be roughly 6×4″ give and take an inch, it doesn't need to be exact).
3. Add roughly 1 tbsp. of filling to the center of each piece. Create the pouch shape by folding diagonally opposite corners together to secure the filling, followed by gathering the remaining corners and gently twisting at the top. Place pouches on a baking pan and thinly brush with melted butter for a beautiful crispy result.
4. Bake for 12 – 15 minutes or until golden brown. This pastry is best served fresh. Reheat for 5 minutes in the oven if cooled.
NOTES
---
When working with phyllo, cover any unused sheets with a damp cloth/paper towel because they dry out very easily and will crumble under handling.

If you find that the tops are burning during the baking process, cover with a sheet of aluminum foil and add 3 – 5 more minutes to the bake time.

Cooked shrimp can be purchased at your local supermarket in the frozen section, make sure to thaw it in the fridge before using.