Once upon a time there was a pregnant woman. Her father-in-law, who was a pretty kick-ass cook, prepared chicken wings for her. She enjoyed them immensely and he was delighted. He then proceeded to cook chicken wings for her every single day of the week. The child that was born became a chicken wing eating monster, devouring all chicken wings within sight. That woman is my mother and that child is me.
So, truth be told, I'm not sure if there is correlation between eating foods during pregnancy and the child's favourite food after they're born, but I do know this: I am really amazing at baking chicken wings.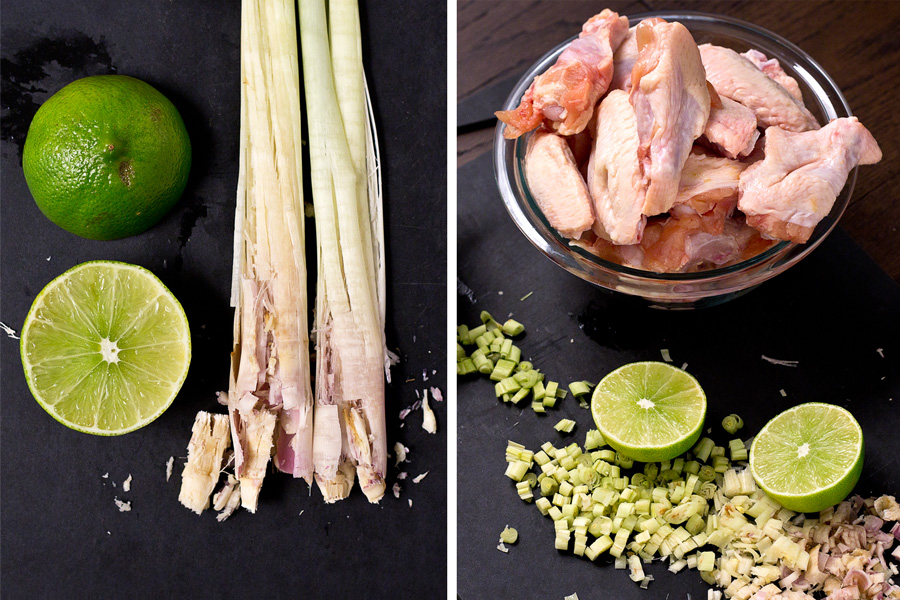 In my opinion, the perfect baked chicken wing should have a wonderful golden tan skin that makes a crispy sound when you bite through, as well as a tender interior that will erupt with flavour in your mouth.
It's my love for eating wings that has driven me to perfecting my chicken wing baking technique (CWBT). The key to this technique is the last step, which is supervised broiling with the skin side up.
If you enjoy the combination of lemongrass and lime (or want to try something new), then this Lemon Grass Chicken Wings Recipe should be on the menu for tomorrow's meal. Please, do yourself a favour and serve it right from the oven! Enjoy!
Lemongrass Chicken Wings Recipe
YIELD: 4 – 6 portions
TOTAL TIME:  10 minutes active prep time, 20 minutes bake time, 1.5 hours (or overnight) marinating time
CREDITS: Frances Lam

---
INGREDIENTS
2 lbs. (910 grams) chicken wings
2 stalks of lemongrass (coarsely chopped)
Marinade
3 tablespoons soy sauce
3 tablespoons lime juice
1.5 tablespoons corn starch
1 teaspoon sugar
1 teaspoon vegetable oil
1 teaspoon salt
1/2 teaspoon fish sauce (optional)
---
INSTRUCTIONS
In a bowl, mix all the ingredients listed under 'marinade' together and set aside.
Cover the lemongrass with plastic wrap and flatten using the back of a blade in a gentle chopping motion. Remove the plastic wrap and slice the stalks into 0.5 cm pieces.
In a large ziploc bag, mix the chopped lemongrass, marinade mixture and chicken wings together. Seal the bag and be sure to press out any air bubbles. Allow the wings to marinate for a minimum of 1.5 hours or overnight.
Pre-heat the oven to 400

°F

. Discard the marinade and arrange the chicken wings skin side down on a baking tray with parchment paper. Bake the wings for 10 minutes, then flip them to skin side up, baking for another 5 minutes. As a final touch, set the oven to broil for 5 minutes or until the wings form a nice golden tan. Serve immediately.
---
NOTES
Flattening the lemongrass stalks breaks up the structure and makes it easier to slice.
The acid in lime juice helps to cook the meat. According to Kitchen Daily, it also helps to "… dig out little pathways in the meat and allow the marinade to seep in."
I find that marinating in a ziploc bag allows the marinade to reach the wings more evenly than marinating in a bowl, where the wings maybe piled on top of each other and only the wings at the bottom come in contact with the marinade.
Tongs make my life so easy when arranging wings on a baking pan, or flipping them during the baking process.
Please keep in mind that I tend to purchase small chicken wings, so if your wings are larger, you may need to add an extra a few extra minutes to the bake time.