Sage salt is incredibly easy to make at home. Use this recipe to enhance the flavours of pork, chicken, fish and other meats. Flavoured salt is an excellent way to bring a different taste to your dishes and up your culinary game. It also makes an unique gift or party favour once packaged into small airtight jars.
I start everyday with a brief stroll in my mini herb garden. I water the dill, check the scotch bonnet chillis, prune the oregano and generally bask in the sunlight. There is something satisfying about growing your own plants and even more so when you can eat the results. My sage plant makes me incredibly happy. It grows effortlessly and I love to run my fingers through its fuzzy little leaves and sniff that earthy aromatic smell. The scent also seems to deter bugs from nesting on it which is a plus, being that I'm not a big fan of those little critters.
Sage has many health benefits such as being anti-inflammatory and antioxidant compound. According to the world's healthiest foods, "Increased intake of sage as a seasoning in food is recommended for persons with inflammatory conditions (like rheumatoid arthritis),as well as bronchial asthma, and atherosclerosis." It has also been proven to help lower blood glucose and cholesterol (source).
A lot of flavour can be imparted with a very small sprinkle of sage salt so it's important to use it sparingly so not to overpower the other tastes. The flavour of sage is known to pair well with pork and chicken, but don't stop there! It can be used on fish, other meats, grilled pineapples and whatever you can think of.
As always, I'd love to see the results if you try this recipe! Show me your lovely creations by tagging @francesmenu on instagram, facebook, or twitter!
Sage Salt Recipe
YIELD: Little over 1/4 cup sage salt
ACTIVE TIME: 3 minutes
TOTAL TIME (active + inactive time): 15 minutes
CREDITS: Frances Lam
---
INGREDIENTS
1/4

cup sage leaves, de-stemmed (approx. 44 leaves, roughly 1.5-2 inches in length each)

3

tbsp coarse salt (or add more salt to taste, depending how strong you want the sage flavour)

1.5

tbsp cooking oil
---
INSTRUCTIONS
Pre-heat the oven to 300°F. Line a baking tray with parchment paper and set aside. 

Toss the sage leaves with the cooking oil so they are thoroughly coated. Spread them out in a single layer on the baking tray and bake for 8 – 12 minutes or until crispy. Transfer the leaves to a paper towel to absorb any excess oil—it is important to try and get these leaves as dry as possible before the next step.

Once cool and dry, crush the leaves with a mortar and pestle or with your hands and mix evenly with the salt. Store in an airtight container. Sprinkle on your meats/fish to give your meals an extra punch in flavour, it will make all the difference in the world!
---
NOTES
You can use paper towel to soak up any extra oil at anytime in the process if you feel that the salt is too oily. If the leaves are not dry, the result will be more of a paste rather than dry salt.
The salt can keep for up to a year in an airtight container.
The salt ratio can be adjusted to your liking.
Behind the Scenes:
This somewhat takes the magic out of the way the food looks, but it is always fun to share how each of my recipes were setup and photographed. This time I took advantage of the natural light instead of using off camera lighting. In retrospect, I could have blocked off the light shining on the background to bring more emphasis to the mortar and pestle, which was the main subject of the photo, but I decided that I didn't mind the lighting in the background and left it as is in photoshop.
It was my first time shooting a recipe with the 100mm Macro lens from Canon and I absolutely adore the flexibility it offers me to get right up in there and not worry about minimum focus distance. What a beautiful result! A big thanks to James who lent me this lens (and Kenny from before)! No wonder it is the 'go to' lens for food photography!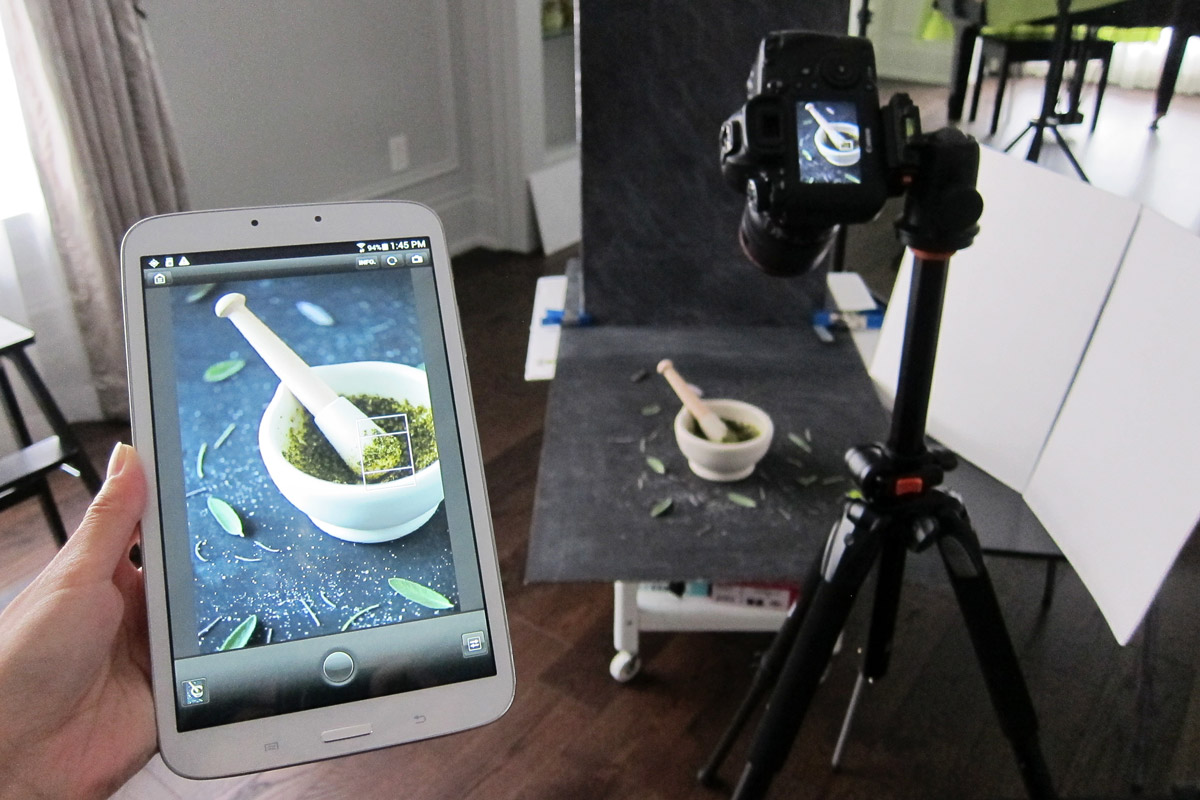 For Pinterest: