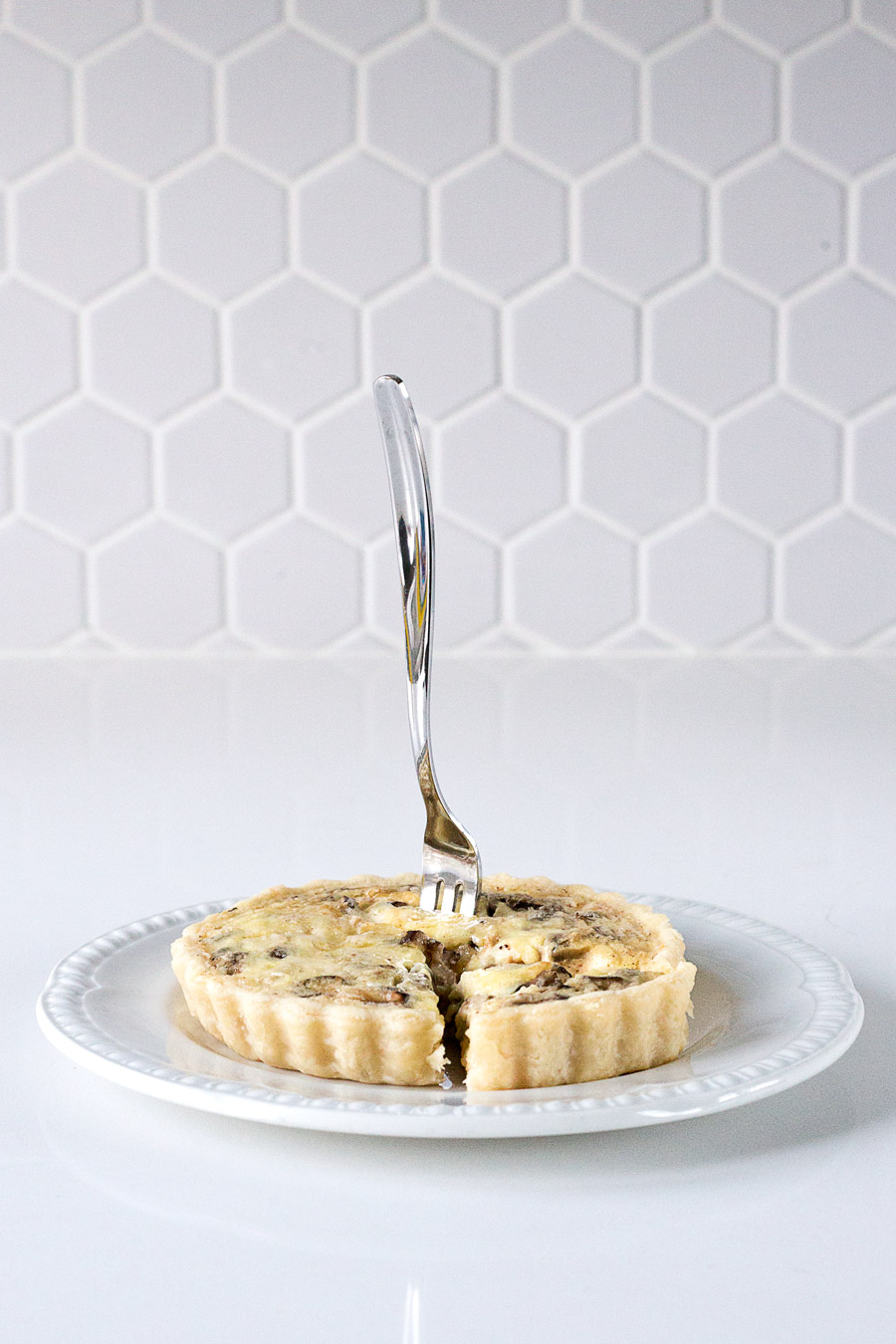 Shiitake mushroom and gruyere cheese quiche. BAM. Sounds and tastes super fancy. Great for serving as an hors d'oeuvres at a cocktail party or gatherings.
Testing this recipe was truly an exercise in understanding how the size of quiche crust and dough fats affect the final quiche. I can proudly say I am a better baker than I was before this recipe.
 Before I began, I envisioned a mini bite-sized quiche that I could serve as an hors d'oeuvres. Knowing this, I started off baking in mini muffin pans. I used pillsbury crescent dough as base and baked the filling and crust together, which resulted in a soggy and puffy crust, pushing out the filling.
Then, I tried blind baking the crust (which is pre-baking without filling) with home-made pie dough, not bad, but the crust kept loosing shape, partially because butter dough doesn't hold shape as well as a combination of butter and shortening, and partially because I didn't have anything to weight down the crust to keep its shape. As a result, they puffed inwards during the blind baking and left little room for any filling.
I then tried turning the mini muffin pan upside down and shaping the dough around the bottom of each mold, no dice. The dough puffed up at the sides, and the shape was too shallow for my needs.
Searching online, I realized how much of a baker's nightmare blind baking mini quiche crusts were. I went out and bought myself a bunch of 4" quiche pans, some pie weights and used a different crust recipe which I got from Baking Illustrated by Editors of Cook's Illustrated. The  combination of shortening and butter held its shape remarkably well, and the pie weights did wonders. Just make sure you poke holes on the bottom of the crust before baking to give the air some room to escape.
Shiitake Mushroom and Gruyere Cheese Quiche Recipe
YIELD: 32-40 mini quiche slices 
ACTIVE TIME: 25 min 
TOTAL TIME (active + inactive time): 50min
CREDITS: Frances Lam
---
INGREDIENTS
1 portion of Quiche/Tarte Dough for 9-in single crust
40 to 50 g Gruyere Cheese (grated)
4 Fresh Shiitake Mushrooms (diced 0.5cm cubes)
1.5 tsp Lemon juice
1/8 tsp Pepper
1/2 tsp Ground Nutmeg
2 Large Eggs
1/2 tsp Salt
2/3 cup 10% Cream (or homogenized milk 3.25%)
1.5 tsp Butter (diced into pea size bits)
Other Tools
4 4-inch Mini Quiche Pans (or one 9-inch quiche pan)
Pie Weights or Pennies
---
INSTRUCTIONS
Preheat the oven to 350 C. If you are using store bought shells, then skip to the next step. Roll out the dough to 1/8″ thickness and cut into circles, large enough to fit in the quiche pans (Some trial and error size testing will have to be done). Transfer and press the dough into the pan. Poke some holes at the bottom of the shell with a fork and add the pie weights on top to prevent the crust from puffing during baking (see notes if pie weights are not available). Pop into the oven for 15 minutes and proceed to the next step in the meanwhile. Return to this step when the shell is done baking and remove the pie weights and shell out of the pan—it should be sturdy enough to hold its own structure.
Grate the cheese, dice the mushrooms and whisk together the salt, egg, cream, pepper and nutmeg. On medium low heat, cook the mushrooms for about 5 – 7 minutes in a non stick pan, adding the lemon juice and a pinch of salt.
Divide the cheese, mushrooms and egg mixture evenly into each shell. Add the pea-sized butter bits ontop. Bake for 20 – 25 min until the filling sets. If the filling jiggles, it means it's not done. Divide each quiche into 8-10 into slices and serve as hors d'oeuvres. If reheating, it's best to bake the quiche for 10 minutes at 350 C to keep it crispy rather than microwaving.
---
NOTES
The heavier the fat percentage in the cream, the richer the quiche will taste (depends on what you like).
If you don't have pie weights, use a bunch of pennies to weigh down the shells and separate them from the shell using baking parchment.