This easy Pumpkin Spice Creme Brulee recipe will transform your fall parties forever. It's both impressive and easy to make!
We live in this world of PSL that sneaks up on us in the fall and has us in its grasp until sometime after winter starts. And then it happens all over again the next year, and the year after that, and the year after that.
Once upon a time I spurned the pumpkin spice thrall that Starbucks had over society but I've come to accept and rejoice it (If you're wondering when this switch happened, it was after my third PSL). This affection of pumpkin spice eventually led me to thinking about the various ways I could PSL my current recipes.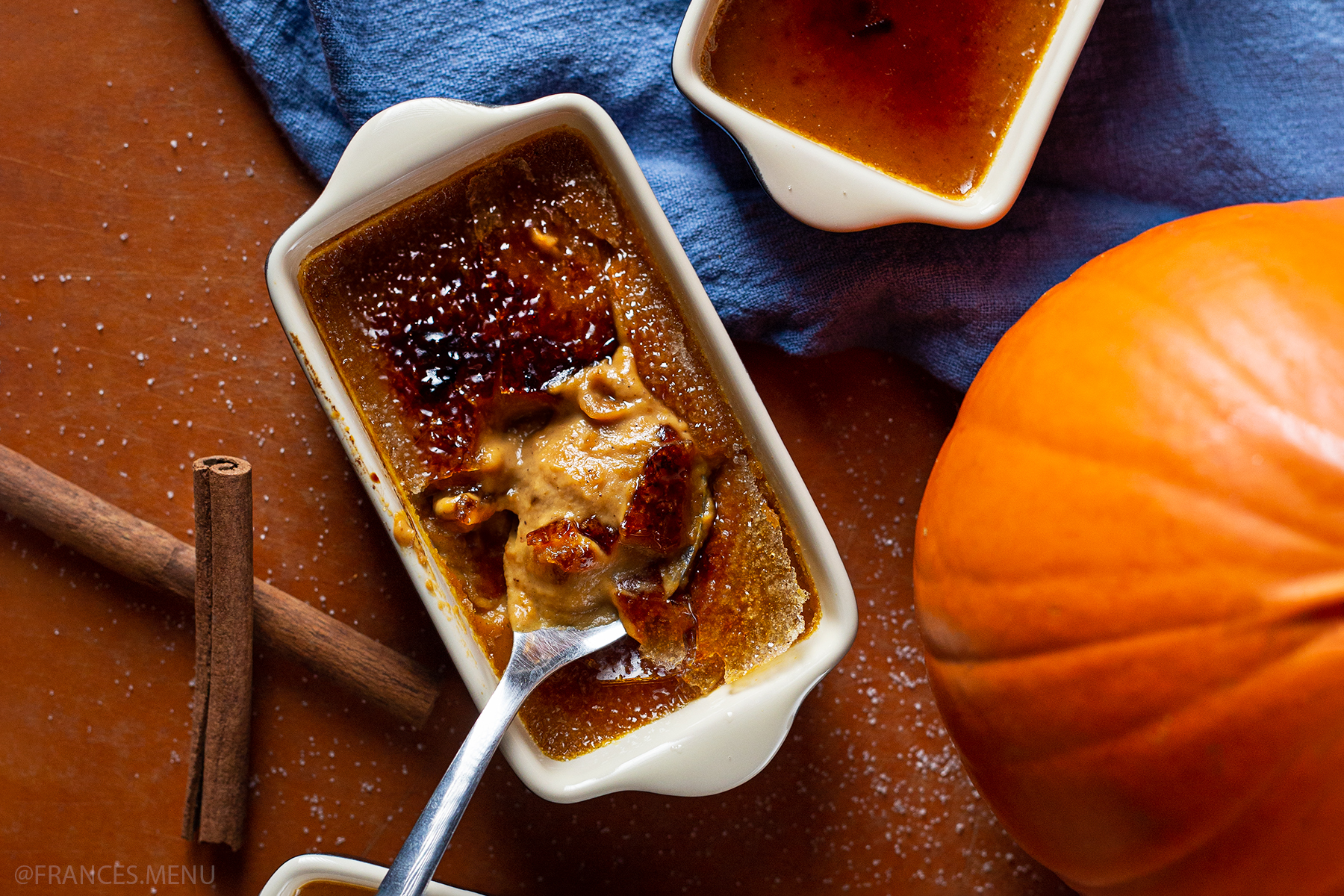 This Pumpkin Spice Crême Brûlée recipe has a 1:1 ratio of pumpkin and cream, so if a silky dense creme brulee with only a slight pumpkin flavour is what you're looking for, this isn't it.
I've tried this recipe with whole eggs and less cream and it just wasn't the same as using egg yolks and a 1:1 cream to pumpkin ratio. Egg yolks made it richer, which is neccesary becasue the pumpkin puree has a lot of liquid in it to begin with.
Cheers to a good culinary therapy session,
-Frances
Pumpkin Spice Crême Brûlée
YIELD: 4-6 servings (ramekins)
ACTIVE TIME: 10 min 
TOTAL TIME (active + inactive time): 1 hr 50 mins
CREDITS: Frances Lam
SUMMARY: Looking for a 🦃Thanksgiving party dessert that is both impressive and easy to make? This Pumpkin Spice Creme Brulee recipe will transform your Fall parties forever! Make ahead to impress your date or for a house party!
INGREDIENTS
Pumpkin Creme Brulee
1 cup (250 g) Heavy Cream
1/3 cup (70 g) White Sugar
4 – 5 (75 g) Egg Yolks
1 cup (250 g) Canned Pumpkin Puree
1.5 tspn (1.5 g) Pumpkin Spice
1/8 tspn (1 g) salt
3 tbsp (40g) White Sugar (For sprinkling + torching)
Pumpkin Spice Mix
1.5 tspn Ground Cinnamon
1/2 tspn Ground Ginger
1/4 tspn Ground Nutmeg
1/4 tspn Ground Cloves
1/8 tspn Ground Allspice
Tools needed
Measuring cup and teaspoons OR a scale
Medium Mixing bowl
Small Saucepan
Whisk (or a spatula to mix with)
Oven Safe ramekins
Large shallow oven safe pan (for the waterbath)
Torch
INSTRUCTIONS
Pumpkin Creme Brulee Recipe
In a small saucepan, heat the heavy cream and pumpkin spice on medium high heat, bring to a simmer and take off the heat.
In a medium mixing bowl, add the sugar and egg yolks, mix until smooth with a spatula or whisk, then mix in the pumpkin puree. If you're using a whisk try to incorporate a little air as possible.
Pour the heated cream slowly into the pumpkin and eggs, mixing constantly until completely smooth. Divide the mixture into the ramekins and bake in a waterbath (see notes) at 150 C (300 F) until set (about 30 – 50 minutes). The center should still jiggly when you shake the waterbath gently.
Refrigerate the ramekins with plastic wrap covering. Rest for at least 1 hour or up to two days in the refrigerator if you are preparing ahead of time.
Torching
To serve, add some white sugar into the ramekins and tilt the ramekin to spread it in an even layer. Torch the top evenly, taking care not to burn yourself, until the sugar forms a crispy carmelized layer. Serve immediately.
NOTES
The thicker the layer of sugar that is torched, the louder the 'crack' sound is when you break through it!
I used E.D.SMITH Pure Pumpkin which comes in a can. It's available at most grocery stores including walmart, metro, foodbasic etc.
The easiest way I've found to get a waterbath going is to place a towel at the bottom of the pan, add the ramekins on top, and place the entire pan in the oven before pouring the water into the pan. The water should reach at least halfway if not 3/4 of the height of the ramekins.
I recommend a torch like this, available on amazon, which is an interchangeable head that you can lock onto any butane can: Sondiko Kitchen Culinary Torch